A CONVERSATION WITH HERR KARL
2013-04-28
Karl: Hello Herr Karl – how are you?
Herr Karl: I'm alright, good to see you! What are you up to?
Karl: Finally I'm bringing the new album, hope you like it?
Herr Karl: Thank you Karl. Really great artwork! I will give it a good play. What I've read in the
PRESS CENTER
sounds fabulous. Why's that?
Karl: I really don't know. Maybe it's because of you?
Herr Karl: What do you mean?
Karl: Well, the album is about my acoustic diary when I did my first sound recordings and you became my doppelgänger.
Herr Karl: Why did you do that, Karl?
Karl: Because everybody refers to our former band but nobody knows about the context of that timeframe.
Herr Karl: Okay, I understand. That's fair enough. But Karl, please tell me: don't you want to be modern?
Karl: I went in and out of style so many times. You know, I'm not a fashion designer! I don't have to come up with a new collection every season! But what do you really mean with "modern"?
Herr Karl: Innovative music, the new sound, the sound of the future etc…
Karl: I don't know how the future will sound. But I know that music incapsulates time. I can only come up with the sound I hear, when I listen inside. Anyway, I don't think it's the meaning of music being "modern".
Herr Karl: I thought you're a pioneer, no? What is the meaning of music?
Karl: All culture is a conversation on many different layers and levels. Music is just one of them. You know, there was this ex-art student from Liverpool who came up with the line: "Come together right now over me". And I think, that's what it's all about: Bringing people together – a celebration in sound.
Herr Karl: To me music is just numbers… so tell me, will you replace me one day?
Karl: Don't bring this up again! No, I won't – okay? We complement each other. Here's one last question: What do you think is the most beautiful sound in the world?
Herr Karl: Oh, I don't know… it depends… perhaps the human voice? I will think about it.
Karl: Okay. Let's go on with that later… take care Herr Karl.
Herr Karl: Auf Wiedersehen.
SCREENING AT ROUGH TRADE EAST IN LONDON
2013-03-24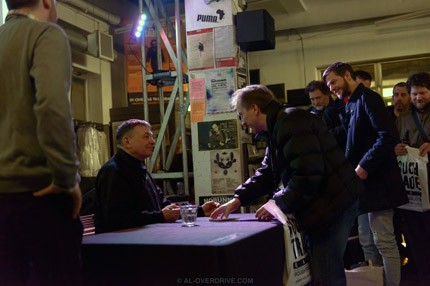 Last wednesday an interested crowd of media people and music lovers met at Rough Trade East for an audio-visual installation and signing session concerning the UK release of Karl Bartos' album "Off the Record". With a little help by Sennheiser who sponsored the silent disco system, people could listen to the new music and watch the accompanying films done by Karl Bartos.
HERR KARL SPEAKS OUT – VOL. 33
2013-03-15
OFF THE RECORD – ALBUM RELEASE!
PLUS: FILM PREMIERE WITHOUT A TRACE OF EMOTION
OFF THE RECORD – THE ALBUM
For "Off the Record", Karl Bartos has opened up his music archive for the very first time. He rediscovered and analysed hundreds of tapes, piles of sheet music, and years of digital media. Inspired by his acoustic diary and adding his experience as a composer and producer, he has created twelve brand new songs – written and performed with masterly skill.
It took him two years to accomplish this original Bartos album: iron crystal music, vocoder newspeak, robot sounds, digital glitch, techno pop, catchy melodies, electronic avant-garde, roaring silence, futurism, and, of course, those rhythms! Rhythms of brutal minimalistic impact as found on the much-sampled 'Numbers' recorded three decades ago and described by Mike Banks of Underground Resistance as "the secret code of electronic funk".
WITHOUT A TRACE OF EMOTION - THE FILM